National Emergency Organisation Hosts Ash Impact Workshop In SVG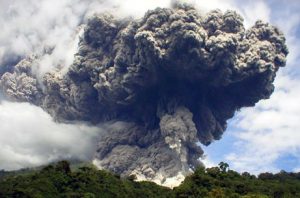 ST. VINCENT:  The National Emergency Management Organisation (NEMO), in conjunction with the STREVA Project – Strengthening Resilience in Volcanic Areas, held a workshop on Thursday 14th April at NEMO's Headquarters, to examine empirical data on the impact of Ash during and after volcanic eruptions of varying magnitude.
This is all part of a national consultation focusing on volcanic contingencies, and the readiness of this country to face another possible eruption of the La Soufriere volcano. This collaborative effort has been ongoing for the past 2 years and is a culmination of a national study of the annals relating to the 1902 and 1979 eruptions of La Soufriere.
The workshop was attended by stakeholders from all sectors of the economy, including St. Vincent and the Grenadines Electrical Services, Central Water and Sewerage Authority and the Royal St. Vincent and the Grenadines Police Force.
Director of NEMO, Mr. Howie Prince, emphasised the need for preparedness, in light of the fact that volcanic ash can have severe negative impacts on infrastructure. He also gave a first-hand account of his experience with ash fall as a youngster who traveled to Fancy during the 1979 Eruption of La Soufriere.
Meanwhile, Dr. Jenni Barclay of the University of East Anglia and STREVA Project Lead, presented findings on ash dispersal during and after the eruptions of La Soufriere in 1902 and 1979. Dr. Barclay also highlighted various volcanic ash impacts recorded regionally and internationally.
In addition, team member of STREVA, Dr. Victoria Sword-Daniels, gave a detailed overview of the potential destructive effects of volcanic ash on infrastructure across various sectors of the economy. Dr. Sword-Daniels outlined various international examples of damage to infrastructure observed during and after volcanic eruptions in Iceland, New Zealand and the United States.