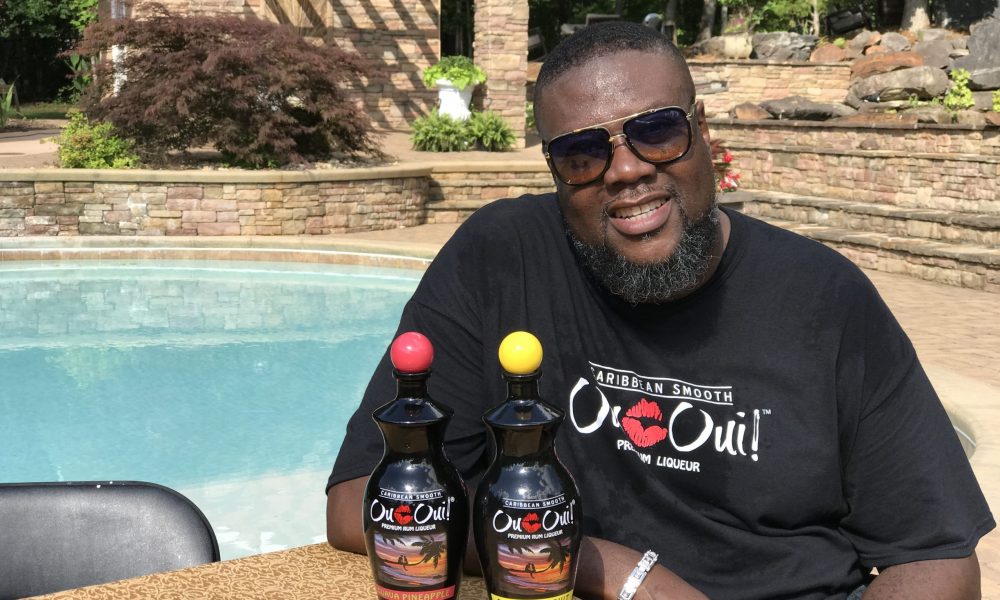 Today we'd like to introduce you to Nigel Walwyn.
Nigel, let's start with your story. We'd love to hear how you got started and how the journey has been so far.
In 2010, I went into my family's backyard in St. Croix and picked some passion fruit to make a beverage, as I had done since childhood in St. Kitts, the island where I grew up. I added some adult content and was struck by the taste. I continued tinkering with it over the years and it soon became a favorite of family and friends. Demand for it at events from friends of friends increased. In 2012 after more development, I introduced it to the public in St. Kitts at the annual music festival. They loved it and declared it a winner. With that endorsement and the encouragement of friends and colleagues in Atlanta, I left my 25-year award-winning television news career that ended at CNN in 2014, to start my company to bring my delicious drink to market.
I immediately started intense research and personal development on the alcohol industry and business management simultaneously. I went to SBA classes and seminars, studied materials from my girlfriend's MBA program, further developed the liqueurs, including additional flavors, and started networking and conversing with industry experts. The 3 1/2 year process included conceptualizing every major and minuscule aspect of the brand, getting government approvals for the company, the formulations and the labeling, choosing vendors and hiring team members.
During the development process of the business and the liqueurs, I started engaging the public as if the drinks were already on the market. I prepared for the high industry barrier my brand had to overcome to have any chance of making an impact or even more critical- surviving after roll out. Mentors and experts in the industry impressed upon me how tough the alcohol industry is and the importance of creating excitement around the brand. I have leaned on many people to help me through the tough terrain and I continue to learn and get great advice as the journey continues to make the Ou-Oui! Brand successful.
Today the brand is growing impressively with the help of our distributor Artisan Beverages of Georgia. We have sold 1000 cases into the market in 100 plus stores in 30 counties in metro Atlanta and North Georgia. I'm continuously engaging customers on social media and in the field at package stores and weekend events.
Overall, has it been relatively smooth? If not, what were some of the struggles along the way?
The road to launching Ou-Oui! Premium Liqueurs was littered with potholes and hurdles. The alcohol industry is highly regulated not only by the federal government but also on a state and city level. The approval process is very meticulous and sometimes intrusive. Not having any prior industry experience presented some personal challenges and a very steep learning curve. My thirst for information and knowledge from my previous news career helped smooth that curve but nothing prepared me for the biggest challenge I had to face to make this launch happen. I also had to deal with production issues that delayed our launch for four months and finally convincing retailers and distributors to take a chance on an unknown brand remains a current challenge.
Getting the funding to go into production became the single most challenging and frustrating aspect of the process. The alcohol industry is a very capital intense industry. I needed $250K upfront (a typical brand launch can cost up to $3 million), and with $20K from a friend, $9K from a crowdfunding campaign that fell way short of its goal and $17K of my own money, we had a huge gap to fill. Months turned into a year plus, and I had kept pushing and searching for ways not to give up after the rejections from investors and banks starting piling up. In stepped the folks at Access to Capital for Entrepreneurs with backing from the SBA to help fill the gap and my dream to bring my liqueurs to the world became a reality. The struggle to raise capital for market expansion and line extensions continues but our hope is the amazing performance of Ou-Oui! Premium Liqueurs out the gate will convince investors to give us a closer look.
Caribbean Smooth – what should we know? What do you guys do best? What sets you apart from the competition?
Caribbean Smooth is a spirits company that specializes in liqueurs with real fruits and spices. We create and market premium liqueurs with our proprietary blend of rums and tropical fruits. I'm the founder, president and CEO of the company. I created the vision and the overall mission of the company. I handle every aspect of the business, from production to marketing and sales, to administration. In the production phase I'm the Master Blender. I'm also a salesperson for the brand, visiting accounts and pitching the brand for activations. I'm the chief marketer of the brand, coordinating tastings and telling the story of the brand, sharing stories and information on our website and on social media and strategically planning brand awareness campaigns.
The journey from my backyard in the Caribbean to watching customers take bottles of my creation to the cash register at the biggest and most popular liquor store in Georgia gave me a sense of pride and accomplishment when I witnessed that first purchase.
Ou-Oui! Premium Liqueurs are different from other products on the market. The main differentiator is our real fruit element. We don't filter out the pulp so customers get the full experience of our exotic tropical fruits that we use to flavor of proprietary rum blend. At 40 proof, our liqueurs are enjoyable straight or versatile enough to make just about any fruity cocktail you can imagine.
What is "success" or "successful" for you?
I believe everyone has goals in life, personally and professionally. Those goals are not singular but made of various levels of smaller goals that lead to achievement. Taking the first step on a journey to reach the first level of those goals is a success in itself. Enjoying and learning while you're on the journey, whether you hit your goal or not is success in my book.
As far as my company goes, just making it on the market was a success marker. However there are many markers left and will be measured in case sales on an annual basis from here on out.
Pricing:
Ou-Oui! Premium Liqueurs are priced from $19.99 – $24.99 retail
Contact Info: