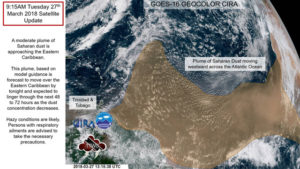 St. Kitts and Nevis and other islands of the Eastern Caribbean will be affected by a moderate plume of Saharan dust which is approaching the region.
This plume, based on model guidance is forecast to move over the Eastern Caribbean by Thursday night and higher than normal dust concentration is expected through the next 48 hours, with dust concentration decreasing by 72 hours.
Hazy conditions are likely and persons with asthmatic and other respiratory ailments are advised to take the necessary precautions.
Microscopic dust particles kicked up by African sandstorms blow thousands of miles (kilometers) across the Atlantic to arrive in the Caribbean, limiting airplane pilots' visibility to just a few miles and contributing to the suffering of asthmatics trying to draw breath.
The phenomenon has been around as long as there's been sand in the Sahara Desert. But it has attracted ever more attention from regional scientists who say the clouds have grown, even if there's no global consensus on the issue.
Scientists say periodic masses of dust may have important climactic consequences, even hindering hurricane formation to some degree..
Experts say particulate matter found in the clouds may also be cause for health concerns, and are calling for more study to understand their potential impact.
Airborne particulate matter is connected to respiratory disease worldwide, usually among people with existing problems such as asthma.