DREW LED FEDERAL CABINET FOLLOWS IN FOOTSTEPS OF THE PREDECESSOR HARRIS-LED ADMINISTRATION IN JOINING NEVIS ISLAND ASSEMBLY FOR OPENING OF NEW SESSION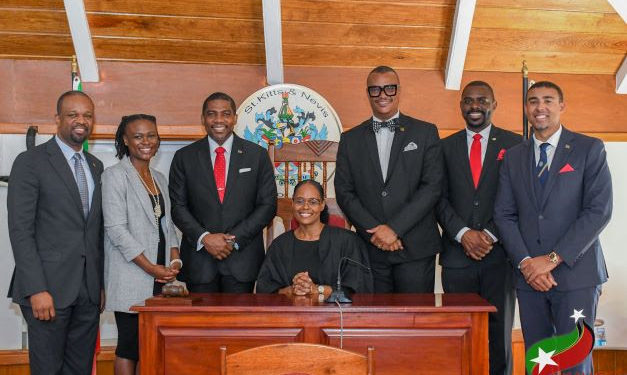 Basseterre, St. Kitts, (January 20, 2023): In 2018 the then St. Kitts and Nevis' Prime Minister, Dr. the Honourable Timothy Harris, led a federal delegation to the sister island Nevis for the opening session of the Nevis Island Assembly and the Delivery of the Throne Speech at the Assembly Chambers at Hamilton House . Current Prime Minister the Honourable Dr. Terrance Drew has followed in PM Harris' footsteps and himself has led the Members of the ruling SKNLP Cabinet, as well as the Speaker and the Clerk of the Federal National Assembly to Nevis, for the Opening of the New Session of the Nevis Island Assembly. This occurrence is just the 2nd time in history the first time being in 2018 as indicated earlier
Prime Minister Dr. Drew described the Federal Cabinet's presence as significant.
"It is important that the Cabinet would have come and shown its support to the democracy here in the island of Nevis. It also demonstrates our thrust as we continue to work together as a Federal Cabinet with the Nevis Island Administration," said Dr. Drew. "We think that strong collaboration is a good equation in terms of our overall development as a Federation. So in that sense, it is very significant."
Dr. Drew said the day's proceedings went very well. He congratulated all who played a role in ensuring the success of the Opening of the New Session of the Nevis Island Assembly (NIA).
Prime Minister Dr. Drew indicated that the people of Nevis can expect to see an increased presence by the Federal Cabinet going forward, especially as both islands work together to strengthen relations.
"The people of Nevis can definitely expect that the Federal Cabinet will show more of its presence here. After all, we are one Federation and the people must know that their Federal Cabinet is working on their behalf as well, so that will continue and it will continue to be strengthened," said the Honourable Prime Minister.
-30-