Anguilla celebrates a golden anniversary
Get our headlines on WHATSAPP: 1) Save +1 (869) 665-9125 to your contact list. 2) Send a WhatsApp message to that number so we can add you 3) Send your news, photos/videos to times.caribbean@gmail.com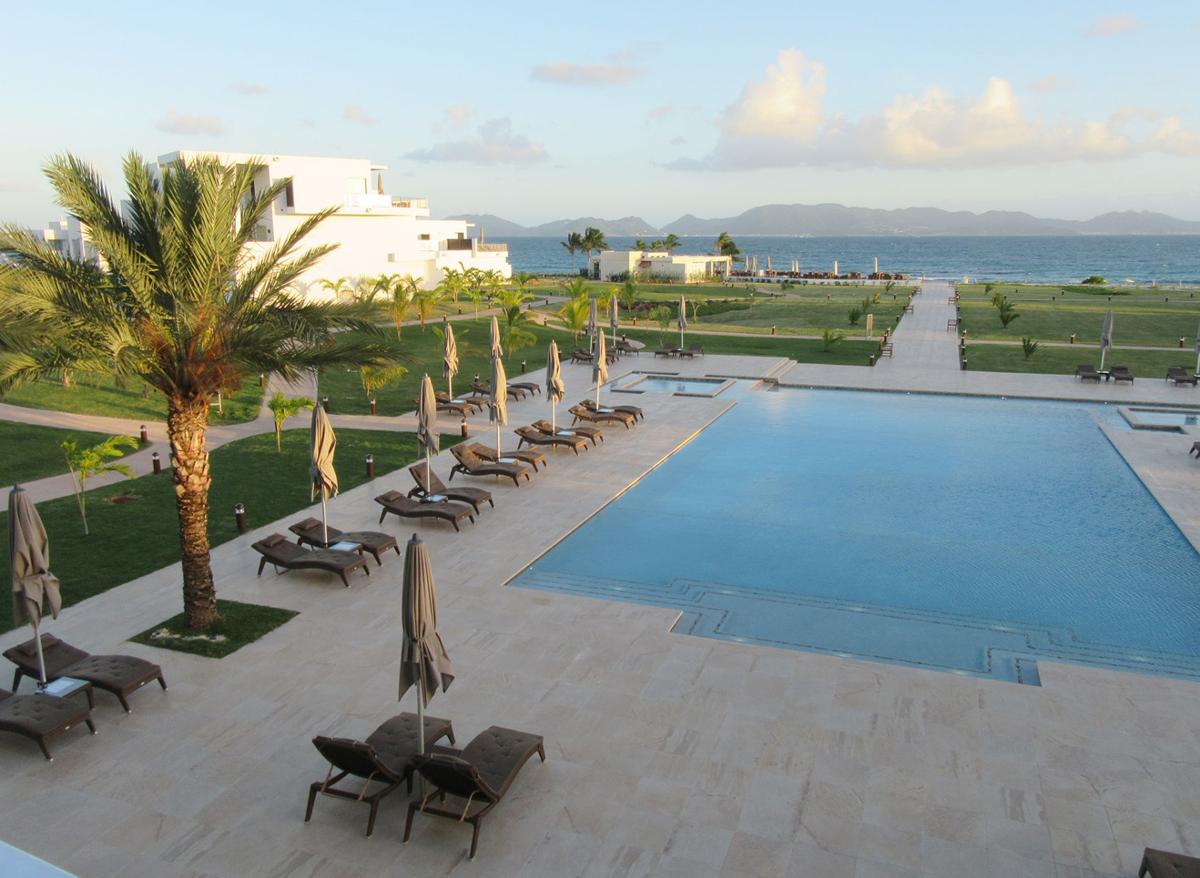 Ask Nori Evoy about living the dream and you'll hear a remarkable story of swapping snowflakes for sea waves. Growing up in Montreal, she moved to Anguilla nearly 10 years ago and today is the go-to blogger for all things Anguilla.
"My family moved to the island in 2008," she said while enjoying lunch at The Sunshine Shack, one of her favourite beach bars. "My Dad [SiteSell Inc. founder and Internet entrepreneur, Dr. Ken Evoy] works online and was building a vacation home in Anguilla when it dawned on him: 'Why a vacation home when I can work anywhere?'"
Fast forward to today and her Facebook page 'Anguilla Beaches' has over 50,000 followers and her website www.anguilla-beaches.com is the most read online resource about the eel-shaped Caribbean island across the sea from St. Maarten. From recommending the best beaches, finest restaurants and funkiest beach bars to where to surf, scuba and snorkel, Evoy's unwavering affection for her adopted island has earned high accolades from locals and tourists alike.
"I started the website as a hobby when I was 14 years old instead of babysitting and other summer jobs," she explained, adding, "I was fascinated by Anguilla's beauty and the genuine warmth of the people and started posting our family's stories and funnily enough, folks started finding them on the Internet. For me, Anguilla ticks all the boxes, from the moment you step foot on-island, you feel at home." — https://ivisitanguilla.com
Fabulous at 50
This year, Anguilla celebrates the 50th anniversary of the People's Revolution of 1967 that marked the islands succession from St. Kitts and Nevis. Celebrations started with the Anguilla Day Parade and Around the Island boat race and will continue through next April with more boat racing, cricket games, concerts and hot deals at hotels, resorts and attractions.
For music fans, Rendezvous Folk and Blues Festival from July 7 to 10 is summer fun with picnics, concerts and beach bonfires, while the biggest blowout of the year, Anguilla Summer Festival, runs August 2 through 13 with boat races, calypso competitions, soca shows, food vendors and a beach party where thousands get groovy until the sun comes up.
"Anguilla's national sport is boat racing," said Evoy. "Fans track their favourite boat by sea or by car while fans on the shore keep a festive mood."
Beach bonanza
On a typical sunny day, which is virtually every day, Merrywing Bay is the capital of calm — unless Sports Illustrated is there photographing the 2017 swimsuit issue at The Reef; the only resort on the out-of-the-way beach. Not to be confused with Upper Shoal Bay or Shoal Bay West, Shoal Bay East is the busiest beach on the island. Day trippers from St. Maarten park their towels on the sand and rum-philes head to Uncle Ernie's for the rummiest punch on the strip. Surfers make a beeline to Meads Bay where you'll find a sprinkling of restaurants and small hotels. "On first glance, Meads Bay looks like a calm beach but the waves are wild, which makes it the best beach for surfers like me," said Evoy.
On the south coast, Rendezvous Bay is where you'll find Dune Preserve presided over by reggae legend Bankie Banx and CuisinArt Golf Resort where non-guests are welcome to stop by for sips and snacks. Also on the beach bagger's bucket list, Maundays Bay never gets crowded apart from the luxury bunkers at Cap Juluca where staff delivers sorbet to the savvy on the sand.
Beds for heads
Although coveted for swanky villas and resorts, tourists can also find beds for heads that won't break the bank. The latest option with 300 listings so far is the popular rental site Airbnb that lists affordable homes, rooms and apartments. "Our goal is to expand our tourism industry, increasing arrivals and enhancing overall tourism revenue," said Cardigan Connor, tourism minister, after the agreement was signed in March. Also affordable, Lloyd's Bed and Breakfast is the island's first hotel sitting pretty high on Crocus Hill. Rooms go for about USD$100 nightly. — www.lloyds.ai
If a resort stay is more your speed, check into a beachfront suite at The Reef where summer rates start at $750 and include breakfast made healthy with the herbs and vegetables from the hydroponic garden at the next-door sister property CuisinArt Resort. "The luxury-seeker will find all the bells and whistles they desire at our five-star experience," said Stephane Zaharia, general manager. — www.thereefbycuisinart.com
The only resort that fronts two beaches, Four Seasons Anguilla, is top-shelf living in 181 rooms, suites and palatial villas. With brand reliability, the Canadian chain doesn't disappoint with the 'Stay Longer – Fifth Night Free 'through the end of August. — www.fourseasons.com/anguilla
For $2,000 a night, you'll live like royalty in the seven-bedroom, six-bathroom Villa Paradise that is shaped like a yacht. Fronting a reef sublime for snorkeling, the villa comes with a boat, oceanfront Jacuzzi and gigantic infinity-edge pool. — www.rickettsluxury.com. Upping the ante, $250,000 (yes, that's a quarter of a million dollars) buys five days and a lot of extras in the Blue Diamond Villa; the newest of three Altamer super villas. — www.altamer.com
Chow down
Eco-astute on Meads Bay, Blanchards Beach Shack is the little sister to the upscale Blanchards Restaurant owned by Bob and Melinda Blanchard, Vermonters who moved to the island in 1994. With cups and cutlery made from corn, not plastic, the seafront restaurant is popular for fish tacos and frozen mojitos. — https://blanchardsrestaurant.com
For the best sushi this side of Tokyo, check out the Sunset Lounge at the Four Seasons and for a big buttery lobster, hop the free ferry to Scilly Island — Island www.scillycayanguilla.com — or the fast boat ($10 round trip) to Sandy Island where you'll find lobsters keeping company with Drunken Shrimp smothered in rum and coconut cream. For a toes-in-the-sand vibe, The Sunshine Shack is where Garvey Lake dishes up standouts like barbecued ribs and broiled snapper. — www.scillycayanguilla.com
A true original, Anguilla's Jammin' is the catchy name for jams in a splash of flavours like Kool Kiwi and Passion Fruity. Made from fruits and vegetables grown in the islands first aquaponics garden, the jams are deliciously environmentally-correct. "Working in tune with one another, the fish in our big tank provide the nutrients for the plants and the plants clean the water to return back to the fish, "explains Tommy Nutting who opened the business with his wife Molly two years ago. Complimentary tours are offered. — vwww.anguillasjammin.com
For the birds
The island's first eco-tour company, Nature Explorers Anguilla, offers birdwatching outings for pros and newbies. "After photographing birds for a number of years, it was clear that birdwatching was a missing piece of our tourism product," said owner Jackie Cestero, "Anguilla boasts twenty salt ponds and wetlands and more than 139 species of birds. " Tours include an Early Bird at 6:30 am, Late Riser at 8:00 am and Afternoon Sampler. www.natureexplorersanguilla.com/
Getting there
The easiest way is via a flight to St. Maarten and a fast boat to Anguilla. Sunwing flies direct nonstop from Montreal to Princess Julianna International Airport in St. Maarten. Other options include flights through Miami or New York with easy connections to St. Maarten. Sea shuttles from the pier across the street from the airport make the trip to Anguilla in 20 minutes. — www.gbferries.com or www.funtime-charters.com. From French St. Martin, the public ferry sails to Anguilla every 45 minutes for $20 per person